Treat yourself to the privilege of an elegant shirt with the best performance
Modesto Bertotto's men's shirts are entirely made in Italy with the best "double twisted" cotton yarns, a type of process that consists of intertwining the threads together two by two in chain and weft, in order to obtain a very consistent fabric, which makes the shirt resistant, long-lasting, soft and pleasant to wear. The double twisted cotton fabric is also visibly shinier: your shirt will be less prone to creases and easier to iron.
THE ELEMENT THAT MAKES THE DIFFERENCE
Make your shirt even more precious and original, with the details that we can perform on request: Hand-embroidered initials on the shirt Customization of the shape of the collar (closed Italian, open French, semi-French, diplomatic) and texture (rigid, soft) Choice of cuff shape (simple rounded more tailored or cut at 45°, double for cufflinks or double use to give the possibility of closing with cufflinks or with the classic mother-of-pearl button)
FIND OUT MORE'
Reviews
We let those who choose our products speak for themselves every day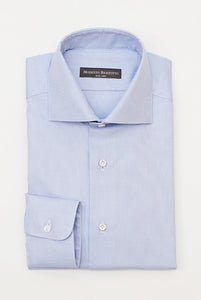 Reviewed by
Lorenzo Musket
"
Fast, precise and quality products!
"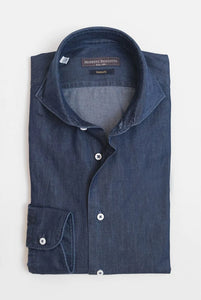 Reviewed by
alessandro falaschi
"
Good morning,
The replacement denim shirt has arrived.
I have to say it's very beautiful.
Thank you very much.
And I have to say your customer service is super super, you made me feel like I was Charles of England.
Thanks again.
"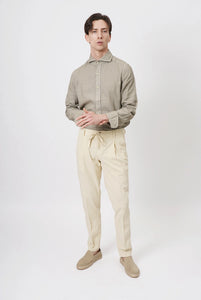 "
Garments of excellent finish and quality. Professionalism and efficiency.
"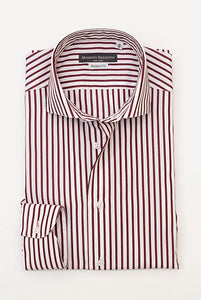 Reviewed by
Matthew Upinot
"
Excellent fabrics and finishes.
I purchased two shirts online, excellent packaging and very fast shipping.
"
You can also find us on Instagram